Fiction
Close of Play
PJ Whiteley's first novel Close of Play centres on the fledgling romance between lone batsman Brian 'Colin' Clarke, and the enigmatic former nun Elizabeth as they struggle to find love in their 40s, amid personal crises of faith and sense of purpose in a rapidly changing world. It was shortlisted for the People's Book Prize Summer Showcase in 2015. The Church Times described the book as '…well written, but most of all well observed'. John 'Boycie' Challis, the Only Fools & Horses star, said: 'Close of Play is a wonderful English drama, combining moments that are touching with others that are laugh-out-loud funny.' At the launch event, the TV and stage stars Robert Daws and Amy Robbins read a chapter from the book. Click here to see the reading. To buy, click on this link.
---
Marching on Together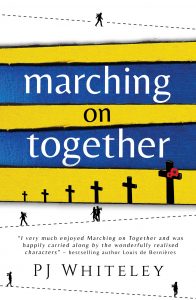 PJ Whiteley's second novel, Marching on Together, has received critical acclaim since publication in February 2017. The legendary novelist Louis de Bernières, author of Captain Corelli's Mandolin, declared: 'I very much enjoyed Marching on Together and was happily carried along by the wonderfully realised characters.' The book was the feature of a full-page article in the Yorkshire Evening Post, while book blogger Sue Gale wrote: 'Sometimes in our lives we read a book that resonates with our soul. This book is it. A group of friends meet up and travel together to France; each is portrayed with all their strengths and weaknesses on display, yet still we are rooting for each and everyone of them … I do hope the author continues their tales.' To buy, click on this link.
A Love of Two Halves
In December 2017, Philip launched the crowdfunding campaign for his third novel, with the working title The Rooms We Never Enter, later re-titled A Love of Two Halves, to be published by Unbound. A spin-off book to Marching on Together, it features the fledgling but troubled romance that ensues when a wealthy entrepreneur meets a single mum on a minimum wage income. A Love of Two Halves will be published in late 2019. SJ Bradley, award-winning novelist and fiction editor of Strix, the Leeds-based literary magazine, said: "PJ Whiteley's A Love of Two Halves is an uplifting northern novel that will warm your heart and restore your faith in humanity."
More information at: https://unbound.com/books/rooms-we-never-enter/