Fiction
Close of Play
PJ Whiteley's first novel Close of Play centres on the fledgling romance between lone batsman Brian 'Colin' Clarke, and the enigmatic former nun Elizabeth as they struggle to find love in their 40s, amid personal crises of faith and sense of purpose in a rapidly changing world.
It was shortlisted for the People's Book Prize Summer Showcase in 2015. The Church Times described the book as '…well written, but most of all well observed'. John 'Boycie' Challis, the Only Fools & Horses star, said: 'Close of Play is a wonderful English drama, combining moments that are touching with others that are laugh-out-loud funny.' In a review, author and actor Mark Mayes compared the work to Chekhov, adding: 'There were some truly tender scenes in this book. And some wonderful descriptive passages.' At the launch event, the TV and stage stars Robert Daws and Amy Robbins read a chapter from the book. Click here to see the reading. For Philip's talk at the event, click on this link. Readers' feedback to Close of Play has been enthusiastic, with over 30 Amazon reviews, 4 and 5 star. To buy, go to: http://tiny.cc/7jkujy
---
Marching on Together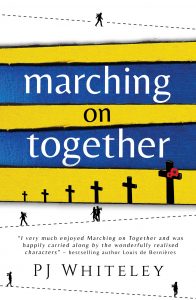 PJ Whiteley's second novel, Marching on Together, has received critical acclaim since publication in February 2017. The legendary novelist Louis de Bernières, author of Captain Corelli's Mandolin, declared: 'I very much enjoyed Marching on Together and was happily carried along by the wonderfully realised characters.'
The book was the feature of a full-page article in the Yorkshire Evening Post, while Book blogger Sue Gale wrote: 'Sometimes in our lives we read a book that resonates with our soul. This book is it. A group of friends meet up and travel together to France; each is portrayed with all their strengths and weaknesses on display, yet still we are rooting for each and everyone of them … They all are moved and changed by their visit and we are left wanting to have further knowledge of their present, past and futures. I do hope the author continues their tales.'
The drama is set in a nine-day period in August 2014, when six friends set off for a short break in Bruges, at the time of the centenary of the start of the Great War. Their common bond is devotion to Leeds United football club, but personal, non-football matters rise to the surface. For Yvonne, the time may have finally arrived to admit to her friends a secret that has haunted her since her role in a terrible event in Paris nearly four decades earlier.
Marching on Together is a bittersweet tale of the bonds of family, friendship and tribe, the anguish of unresolved remorse, and the thinness of the line that separates redemption from peril in the decisions that we make. To buy, go to http://tiny.cc/0ikujy
Web photos in the Fiction section were taken by Neil Hannam. To see more of his work, go to his Facebook page at: www.facebook.com/Neil-Hannam-682877145119495
The shots were taken at the official launch of Close of Play in April 2015, organized by the Ampthill Literary Festival: www.ampthillfestival.co.uk/literary