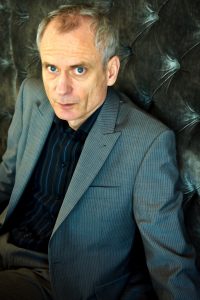 As we grow up, we form a view of the world, based on the stories we're exposed to, and the experiences we go through. We try to make sense of ourselves, and our roles – as worker or manager or family member or lover – based on these narratives. Sometimes, they make sense, but sometimes they're limiting, or even destructive.
We hear them in our minds, in our quietest moments: 'You must work in a large corporation.' Or: 'You should never do so, it's selling out!'. Or: 'I'm not cut out to be a leader/husband/wife.' Philip's writing work centres on whether we are able to become aware of these scripts, and challenge them if necessary.
His non-fiction questions the way in which business management has been taught, with people treated as an inanimate 'resource'; the behavioural reality is that people create and continually reshape the business, they are not a mere sub-division of it. His novels, for which he is starting to receive top-level critical acclaim, depict people in every-day situations, where the narratives they tell themselves just don't work for them anymore.
New: Philip has begun giving free creative writing courses in Leeds, early evening on the first Tuesday of each month. Eight people attended the first event in May 2019, feedback was positive, so the next will take place on Tuesday 23rd July 2019, 18.00-19.30 at Castleton Mill, Castleton Close, Leeds LS12 2DS. https://www.facebook.com/events/551455698712469/
Cover reveal! Philip's third novel, A Love of Two Halves, is due for publication late 2019, with launch events being planned for Leeds, London and Margate. The book is being published by Unbound, and was crowdfunded under the working title The Rooms We Never Enter. The cover reveal was on 19 June 2019. SJ Bradley, fiction editor of the Leeds-based literary magazine Strix, has given a cover quote. She wrote: "PJ Whiteley's A Love of Two Halves is an uplifting Northern novel that will warm your heart and restore your faith in humanity."
For cover image and more information, go to: https://www.facebook.com/PJWhiteleyauthor/?modal=admin_todo_tour